SAVED & SAFE
Start safely in the world of QR Codes with Kaywa QR MGMT.

CREATE
Create QR Codes quickly and easily on your own dashboard. Add the destination link, click and your QR Code is ready to use. Welcome to the world of QR codes!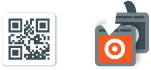 CHANGE
Many of our customers need to change their destination link at one time or another. With QR MGMT Codes, you always can.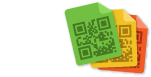 DOWNLOAD IN MULTIPLE FILE FORMATS
You can download your QR Code in different formats, such as PDF, PNG, and EPS. You can also embed your code directly on a website by clicking the "Embed" link.

NUMBER OF QR CODES
The number of QR Codes you can create depends on the subscription plan you choose.

NUMBER OF SCANS
All of our QR Codes come with an unlimited number of scans. We will never interrupt service as the user experience is paramount to us. Your Codes remain valid indefinitely. We guarantee ad-free Codes.

NUMBER OF USERS
You can invite others to use your Kaywa account, depending on your subscription.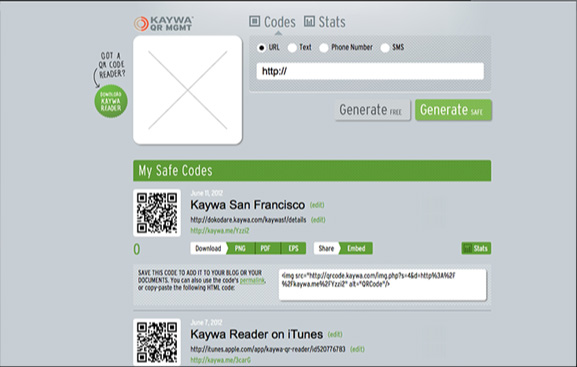 ANALYTICS
See what your customers are doing!
QR MGMT Analytics give you clues about scanning activity and hence the effectiveness of your marketing campaign.

STATISTICS OVER TIME
You can measure the success of a single QR Code over a specific period of time.

TECHNOLOGY
Get to know which devices and operating systems your customers are using, providing clues to which categories to invest in and planning strategies for the future.

LOCATION
See where your customers scan your codes by country and city. You'll learn where your most interested prospective customers live!

CONSOLIDATED VIEWS
Details are updated every five minutes and summarized in the overview, neatly visualized in pie charts.
BUSINESS SOLUTIONS
The following services allow you to get more out of your campaigns with QR Codes.
Do serious QR Code business.

CAMPAIGN TRACKING
You can link one landing page with many different QR Codes. Then, you can truly measure the effectiveness of your campaign through different communication channels. This will provide helpful clues in deciding where you should spend your marketing budget next!

MULTIPLE URLs
You can create one QR Code but link it to different URLs. Your prospective customer's device will communicate with our codes and connect them to a specific URL. The ability to have multiple URLs is a convenient tool, allowing you to send customers to the appropriate app store or landing pages in different languages.
CUSTOMIZABLE QR CODES (color, shape, logo)
A QR Code is more likely to be scanned when it contains a special color, shape, or logo. A code that is easy to identify and quickly discovered is a significant advantage over your competitors. It's a great branding tool!

EXPORTABLE REPORTING (Excel)
Need to do some serious number crunching? With this service, you can export your reports to an Excel spreadsheet and analyze all of your data after a campaign.

CUSTOM HASH
With a custom hash, your link is adapted to clearly demonstrate the destination for your QR Code. We place a word of your choice after the slash. For example, if you are doing an Easter promotion, you might choose a URL like "kaywa.me/Easterpromotion."

CUSTOM URL
With a custom URL, your customer will only see your URL during the scanning process. All of the QR Code provider links are hidden. The customer only ever sees your brand!

BULK CODE CREATION
Several hundred QR Codes to create? This service automatically generates all of these codes, minimizing your work and maximizing efficiency!
These features are available on PREMIUM and ENTERPRISE plans only.